Today's SEO Pub Chat is not going to be one of those where I just hand you the keys to some awesome tactic or strategy I use. For you to get the most out of this one, you are going to have to put in some effort yourself.
Yes, I'm giving you homework.
One of the best examples I have found of a site killing it with content marketing is a company called ShipBob.
ShipBob is what is known as a 3PL, or third-party logistics, company. That is they handle all of the storage, inventory management, and order fulfillment (picking, packing, and shipping) for ecommerce websites.
ShipBob has seen tremendous growth in just a few short years, and recently was evaluated as being worth over $1 billion.
Now, there is certainly no shortage of links pointing to their site, but they really have only started attracting large numbers of links recently, after they rose to prominence.

What they did to get there was largely content marketing.
They have published around 500 blog posts going back to June of 2017. That is a little over 100 posts a year.
And that is certainly not all of their content. The site is over 1,100 pages. They create a lot of what I would term resource pages as well that are not published on the blog.
For example, here is a page about shipping from the U.S. to Canada: https://www.shipbob.com/shipping-from-us/to-canada/
There is a FBA (Fulfilled By Amazon) rate calculator: https://www.shipbob.com/amazon-calculator/
How about an ecommerce inventory management guide: https://www.shipbob.com/ecommerce-inventory/guide/
On their blog, you will find topics about USPS Flat Rate Shipping, USPS vs. UPS vs FedEx shipping, ground shipping, how to calculate shipping costs, what is dunnage, what is DIM weight, a template for creating a shipping policy, warehouse management, and inventory management.
It reminds me of the old RadioShack slogan: You've got questions. We've got answers.
Pretty much anything that an ecommerce business might want to know about storing inventory, running a warehouse, packaging orders, shipping orders, handling returns, etc. ShipBob has a piece of content for.
Is there article about how to start a jewelry business going to bring in a ton of qualified leads for them? Probably not. A jewelry business just starting out, in most cases is going to handle their own order fulfillment. However, the article gives them plenty of great reasons to create internal links to their pages about creating a returns policy, how a shipping strategy can improve customer loyalty, ecommerce venture capital, custom packaging, the unboxing experience, improving customer retention, and more.
They also hit a lot of topics that are not necessarily in their wheelhouse or directly related to what they do, but like the recent example of Uproad we talked about, they are things that their potential customers care about. What do I mean by that?
They have articles about topics such as ecommerce marketing automation, sms marketing for an ecommerce business, building a social media presence for your online store, tips for creating a great mobile shopping experience, and a ton of other topics. They themselves do not offer any of these services, but they know that ecommerce business owners may be searching for information about these things.
Maybe they are not specifically searching today for an order fulfillment partner, but they are a qualified lead in that they own an ecommerce business. That means they have to be shipping out products. At the very least, they are building brand awareness, but more than likely they are also generating top of the funnel type of leads from these articles.
What can you learn from ShipBob?
In last week's SEO Pub Chat, I talked about how useful it can be to take a look at competitors on a page level versus looking at all their search query data.
If you missed that tip, you can go check it out here: https://theseopub.com/competitor-keyword-research-shortcuts/
I would encourage anyone who wants to have a better understanding of content marketing to use that idea and go take a look at ShipBob.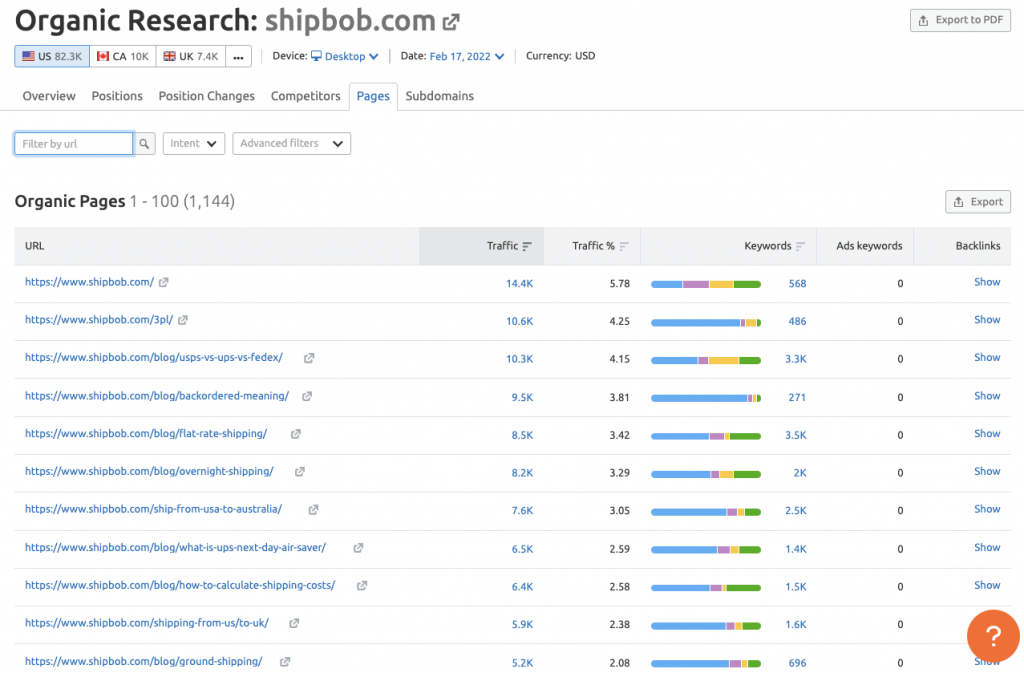 I would also encourage you to take a look at the content itself they are publishing. Most of it is outstanding. They cover each topic in pretty intricate depth. Every piece of content has several internal links in it.
Whenever I see someone complaining about how they have produced the best content in their niche but still are not outranking their competitors, in my head I wonder aloud, "Yeah, but is it ShipBob level good?"