So you are starting a new project or you have just signed a new client, and you are getting started on some keyword research. The first thing many of us do is go look at what competitors are doing.
Why reinvent the wheel, right?
What happens though when you pull up a competitor and there are thousands of keywords to look through?


90,000 keywords?
120,000 keywords?
While it is great that tools like Semrush have this level of data, who has the time to sort through all of it?
Let's be honest, even if it was only 2000 words, there would still be a lot of time involved in sorting through something like that.
But what else can you do?
In this week's SEO Pub Chat, I'm going to share with you a few shortcuts I use in keyword research that can help to trim down what looks like an overwhelming and daunting task.
1) Use Filters
For smaller lists, I like to take advantage of a feature baked into Semrush. They have the keywords sorted by intent.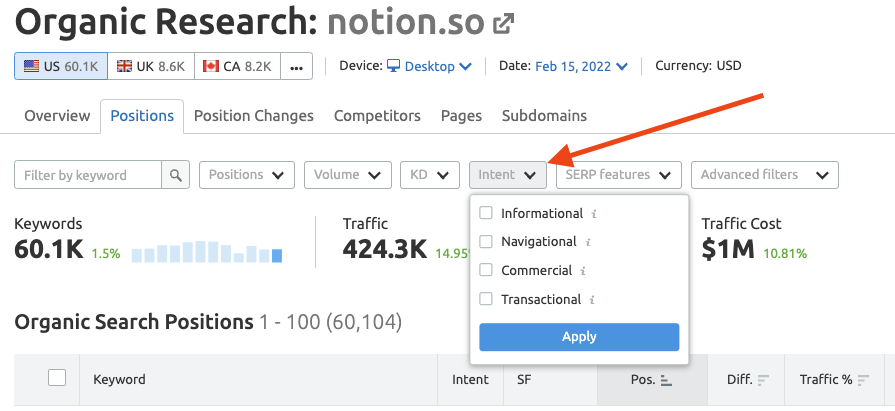 There are 4 categories you can choose from:
Informational: The user want to find an answer to a specific question.
Navigational: The user wants to find a specific page or site.
Commercial: The user wants to investigate brands or services.
Transactional: The user wants to complete an action (think conversions, buyers, etc.).
One nice feature they added to this is you can use more than one of these intent categories at a time.
I rarely use the navigational option. It's largely going to give you people who are searching for a specific brand or company.
Commercial also tends to bring up a lot of searches that are specific to a brand. So for example, if I am researching Notion as above, this is going to include a lot of Notion specific search queries.
I find the informational category can be useful but it is going to include a lot of search queries relating to the brand again, but this time it will be a lot more 'how to' or 'can I' type of searches.
For example, sticking with Notion, it would include search queries like how to create a new workspace in Notion or can I share a page in Notion with other people.
If you are creating a site with a lot of tutorials or instructional type materials about other services or products, this might contain a lot of golden keywords you want to go after. These also tend to be useful if your site is monetized off of display ads versus selling a specific product or service.
The option I use the most often though is that transactional keywords. These are often search queries that exhibit more buyer intent or are at least closer to the middle of a sales funnel.
When I'm looking at big established brands, like Monday.com, Clickup, and Notion, I also like to filter out the brand names. You can do this easily in Semrush using their Advanced filters option.

I will exclude any keyword that contains the brand name.
Combine that with transactional search intent, and now what was a list of 60,000 queries for Notion is down to 7,700. A substantial difference.
You can add multiple filters to sort the list even further. Only want keywords that are searched 300 times or more per month, add that in, and now the list drops to only 533 queries.
That's a list anyone can work with.
Just a word of caution, you might be missing some good keywords under 300 search queries, so be careful. However, it should give you some good idea in broad terms of the type of keywords you need to target.
When you find really good terms or a lot of related terms / themes, you can go back into Semrush with the Keyword Magic Tool and insert a few of those to make sure you scoop up some of those good smaller volume keywords.
2) Sort Sites by Page
This is my favorite keyword research shortcut, and one I'm always surprised that more people do not use or even think of.
What I like to do is take a look at competitors and see which of their pages are getting the most traffic.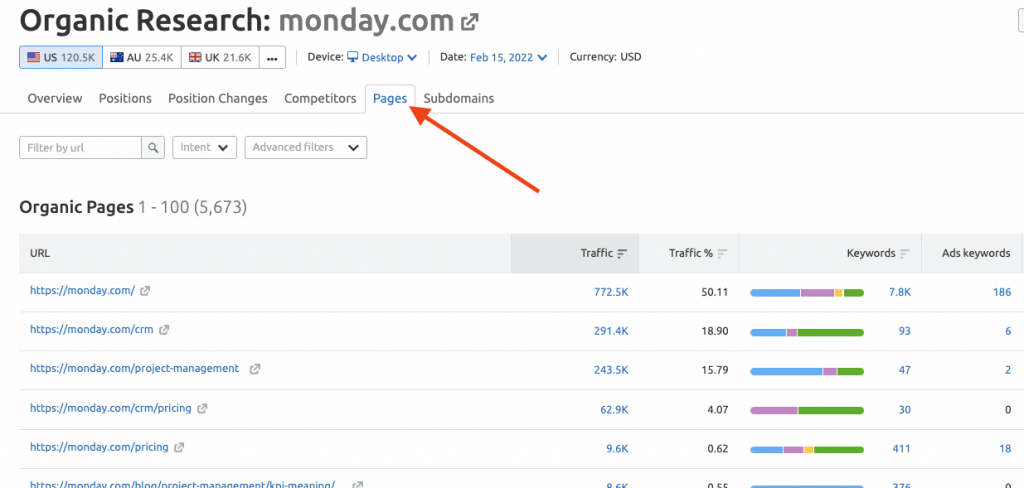 People are often talking about topic clusters or clustering their keywords together.
The big advantage of this method, besides showing you which of their pages get the most traffic, is that it does a lot of the clustering work for you.
I can click on any of those URLs and Semrush will show me all the keywords they have data for on that page.
If I'm working for a competitor, what I'm going to do is instead of trying to target and pick out thousands and thousand of keywords to go after, I'm going to pick out 10, 20, maybe 30 of these pages to start with.
From there I can look at the major keywords they are getting traffic from and create my own buckets of keywords for the versions of these pages I'm going to create.
The other thing I like to do is look at keywords that have solid search volumes, but the competitor is ranking poorly for them and not getting much traffic from them. If they are relevant to what I'm doing and the content I will be creating, I'll look at what can I do to make my article better target those terms and fill in the content gaps.
By the way, this method was how I came across what Uproad was doing from last week's SEO Pub Chat. If you missed that one, you can check it out at: https://theseopub.com/uproad-toll-app-using-seo-to-create-a-market/
Here is a video version of this week's SEO Pub Chat: