Uproad is an app for your mobile phone that lets you pay for tolls on roads and bridges in select areas across the United States.
Many states have services like E-ZPass, which is a transponder you put on the windshield of your car. As you pass through special toll lanes for E-ZPass customers, your transponder is read and you pay your tolls through their service.
When looking at a company like Uproad from an SEO perspective, one of the biggest challenges is that few drivers realize that an app like it exists. You could go after some search queries such as:
| Search Query | Average Monthly Search Volume |
| --- | --- |
| toll road app | 140 |
| best toll road app | 70 |
| app for paying tolls | 10 |
There are a dozen other terms like this too you could go after, but the combined search volume would make it hard to build a profitable campaign.
What Uproad has done instead is looked at SEO as a way to create a market for their app, and so far the strategy looks to be paying off: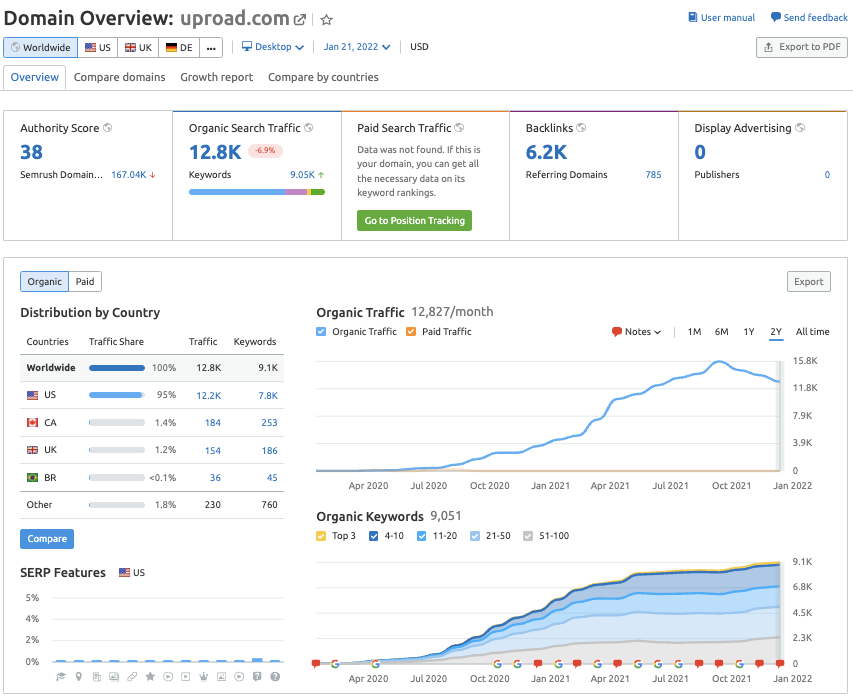 What are they doing?
In addition to going after search queries directly relating to their app, they are also targeting searches relating to specific tolls in their footprint. For many of these they are ranking in the top 3 or at least the top 5.
What do I mean by searches relating to the tolls?
They target the toll name. So anyone searching for the toll by name is likely to find them.

But then they also will target searches that are questions about these tolls, such as how much different tolls cost.

Or how to pay for a toll.

And even searches about paying tolls online.

Of course these search queries are mostly lower volume, but added up across their entire footprint, it brings in a fair amount of traffic and gives them a chance to put their app in front of people who may not otherwise know something like it exists.
It's a pretty smooth idea. Instead of targeting people searching specifically for what your app does (because in this case there isn't much search volume there), target search queries that are related to what your product or service does. Think about someone who would benefit from what your company does. What kinds of things might they be searching for?
People who are searching for information about specific tolls (how much are they, how can I pay them, what to do if I didn't pay, etc.) are the type of people who might be interested in an app like this.
How did they do it?
They built a link in the footer of their website that links to this page:
https://www.uproad.com/all-toll-points
This page is the main list of all the toll points in their footprint broken down by state.
Here are a few examples of the individual toll pages they create:
https://www.uproad.com/toll-point/antioch-bridge-toll-info-prices-cost-payment-options
https://www.uproad.com/toll-point/i-95-express-toll-info-cost-prices-payment-options
💡 A few things I think they do well on these pages:
Solid title
Embed a map
Additional info below
Call to action to grab their app on the side
Links at the bottom create a solid silo-like structure and strong overall internal link structure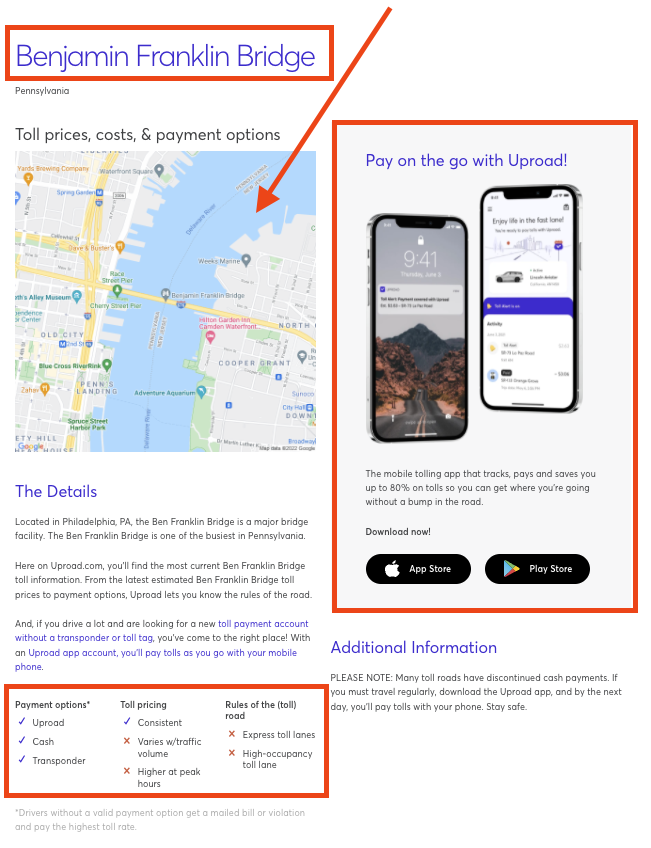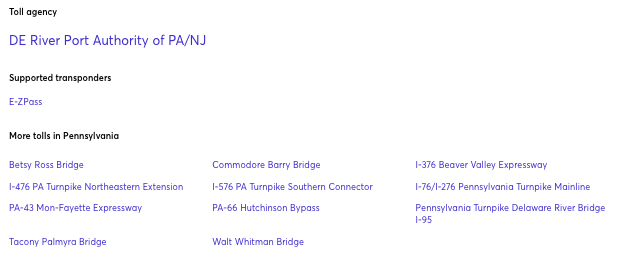 ❗ I think they could do a few things better:
I would put the link in the main navigation rather than burying it in the footer.
Should link to the toll agency and create a page devoted to that
Should link to an E-ZPass page instead of just mentioning it. E-ZPass is a solution to paying for tolls and something people are searching for alternatives to.