Not sure what topic ideas to choose next for some of your top pages?
This tactic is super simple, but don't let its simplicity overshadow just how powerful it is. Best thing about it, you can do this in about 5 minutes or less.
Go to Google Search Console >> Performance >> Search Results
Then sort the data for the past 6 months.
Now click on the PAGES tab, and select one of your top performing pages. You want a page with at least 2000 impressions or more to get the most out of this tactic.
Click on that page in the list. This will set up a Page filter at the top. Now export the data into a Google Sheet.
In the Sheet, you will be in the Queries tab, which is exactly where you want to be.
Move your cursor to cell E1. This will be the cell with the Position header in it. In the menu go to Data >> Filter views >> Create new filter view.
Click on the filter icon in cell E1 and select Filter by condition. Then choose Greater than.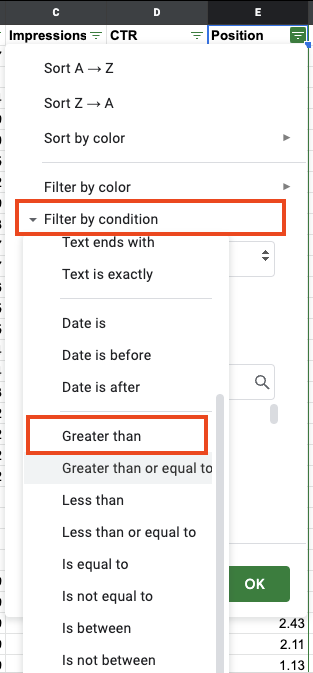 I like to use 40 here, but you could go a little higher. Then click on OK.
Then I sort the Impressions column from Z to A.
What you are left with is a list of search queries with some degree of search volume data that this page is not ranking well for. Many times it is because these terms are related to your page but not entirely relevant to it.
Don't forget that the search impressions are going to be lower than the real search volume. We are dealing with position 40 and beyond.
As Google states in their documentation,
Impressions: The number of times any URL from your site appeared in search results viewed by a user, not including paid Google Ads search impressions.
We know most searchers do not go past page one, so the actual search volume is usually much higher.
Often times, these queries make great supporting blog topics on their own and can link back into this page.
I did this for a page on a site I'm working on and came up with this list: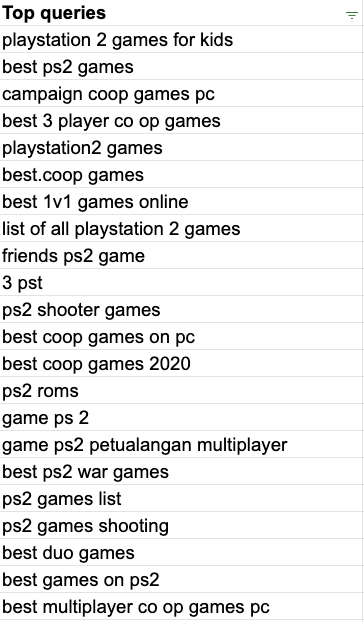 A lot of these would easily make great blog posts on their own.
Again, as I mentioned above, many of these are going to have really low impressions because we are looking only at search queries with an average ranking of 40 or worse. However, the search volume is secondary to me. What I'm most interested in is topic ideas. I want to use these to build out my topic clusters further and link back to the page I used to find these.
If those new articles also happen to rank and bring in some traffic on their own, that is a welcome bonus.